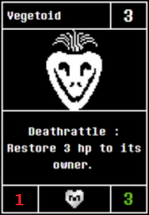 Current version can be seen here.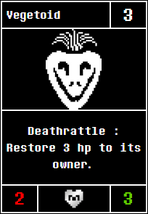 Vegetoid gained small buffs over time. Starting out with 1/3 that would heal its owner for 3 HP upon death, Vegetoid gained its first buff in Alpha 2.7, where its ATK was raised to 2. Beta 1.6 buffed that further to 3, giving it its current 3/3 for 3G.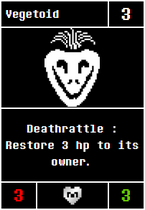 Beta 5.3 gave it its first buff in its effect, healing 4 HP upon death instead of 3 HP. Beta 16.0 buffed that further to 5 HP.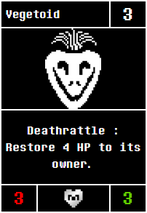 Stats
ATK:
1 (Pre Alpha 2.1)
2 (Post Alpha 2.1)
3 (Post Beta 1.6, Current)
HP: 3
Cost: 3
Abilities:
Dust: Restore 3 HP to yourself. (Pre Beta 5.3)
Dust: Restore 4 HP to yourself. (Post Beta 5.3)
Dust: Restore 5 HP to yourself. (Post Beta 16.0, Current)
Rarity: White (Common)