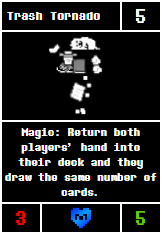 Current Version can be found here.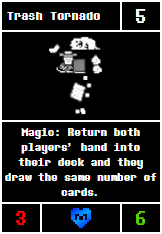 Trash Tornado, added in Beta 12.0, got its first change in Beta 13.1, where its HP was buffed from 5 to 6. This was dropped to 3 in Beta 19.0, but it also got a drop cost from 5G to 3G.
Beta 20.2 updated its effect, because it didn't properly shuffle your cards. So while it was shown in the patch notes as a rebalance, it classifies more as a bug fix. It shares this change with Acceleration.
Stats
ATK: 3
HP:
Cost:
5 (Post Beta 12.0)
3 (Post Beta 19.0, Current)
Ability: Return both players' hand to their deck and they draw the same number of cards.
Rarity: Blue (Rare)