Previous Versions can be found
here
.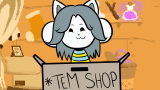 Trader Temmie is one of the 20 new cards from Beta 6.6.
This is a overall great card, with great stats and the ability to draw spell cards of your class. It is best paired with taunt cards to get as many spells as possible.
Combos
Trader Temmie can work especially well with the Kindness class. If it survived one turn, the spell cards Force of Nature and Longevity could give the Trader extra health, making it it even harder to defeat, and in turn, giving more spell cards to buff its health. In addition to that, if Trader Temmie has a high enough health, reversing its stats with Madjick will give Trader Temmie a very high attack, sometimes to the point of OHKO the enemy player.
Another strategy with Trader Temmie is to use it as a pseudo-Taunt card. Many players consider this card a big threat and will often attempt to kill Temmie before anything else. If you aren't in need of Trader Temmie, it can be used to distract the opponent.
Trader Temmie can also activate the abilities of your Temmie Statue and both ally and enemy Allergic Temmie.
Card Skin: Tem Shop