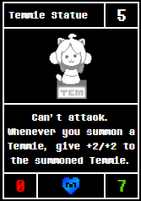 Current Version can be found here.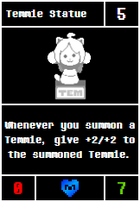 While Temmie Statue was released in Beta 9.0, it was already reworked in Beta 9.1, where it gained the ability to attack on its own.
Beta 14.0 nerfed Temmie Statue quite a lot by giving it -1 HP and giving the summoned Tems +1/+1 instead of +2/+2. Its cost dropped from 5G to 4G, though. Beta 19.0 buffed it a bit by futher lowering its cost to 3G.
Stats
ATK: 0
HP:
7 (Post Beta 9.0)
6 (Post Beta 14.0, Current)
Cost:
5 (Post Beta 9.0)
4 (Post Beta 14.0)
3 (Post Beta 19.0, Current)
Abilities:
Can't attack. Give +2/+2 to all summoned ally Tems. (Beta 9.0)
Give +2/+2 to all summoned ally Tems. (Post Beta 9.1)
Give +1/+1 to all summoned ally Tems. (Post Beta 14.0, Current)
Rarity: Blue (Rare)