Current version can be seen 
here
.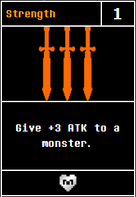 Strength is a
Bravery
Deck
specific
card
. It has been reworked multiple times in order to try and balance out the win rate of
Bravery
.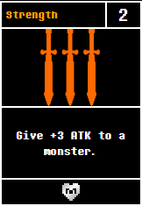 Originally it costed 2G and would give +3 ATK to a monster of your choice (including enemies). In Beta 2.0, this was reduced to 1G before being brought back to 2G in Beta 4.1. The next update however, Beta 4.2, brought it back down to 1G but also nerfed the effect to only give +2 ATK. Beta 4.6 dropped the cost further to 0G.
Beta 4.8 changed it back to its Post Beta 2.0 version, giving +3 ATK for 1G. And Beta 6.2 changed it again to its original (and Beta 4.1) state by increasing its cost back to 2G.
Beta 20.0 nerfed the effect by now only giving +3 ATK if the enemy has more monsters on the board than you. Otherwise, it only gives +2 ATK.
Soul Type: Bravery
Cost:
2 (Beta 4.1)
1 (Post Beta 4.2)
0 (Post Beta 4.6)
1 (Post Beta 4.8)
2 (Post Beta 6.2, Current)
Effects:
Give a monster +3 ATK. (Post Alpha 3.0)
Give a monster +2 ATK. (Post Beta 4.2)
Give a monster +3 ATK. (Post Beta 4.8)
Give a monster +2 ATK. If the enemy has more monsters, give +3 ATK instead. (Post Beta 20.0, Current)
Rarity: White (Common)