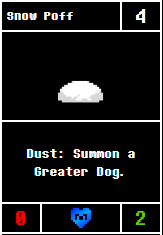 Current Version can be found here.  
Snow Poff, added in
Beta 7.6
, originally had the stats of 0/2 and the cost of 4G, but
Beta 8.3
increased that to 0/8 for the cost of 5G, as that update made it possible for monsters with 0 ATK to attack and take damage, just not deal damage. So it could attack a monster with an ATK of 8 or higher so it could kill itself. 
 However, a few hours later, in Beta 8.3.1, it was returned to its previous version, 0/2 for 4G, but now also has the Can't attack ability. Beta 13.4 increased its cost back to 5, but this was returned back to 4 in Beta 18.0.  
Stats
ATK: 0 
HP: 
2 (Post Beta 7.6) 
8 (Beta 8.3) 
2 (Post Beta 8.3.1, Current) 
Cost:
4 (Post Beta 7.6)
5 ( Beta 8.3)
4 (Post Beta 8.3.1)
5 (Post Beta 13.1)
4 (Post Beta 18.0, Current)
Abilities:
Dust: Summon a Greater Dog. (Post Beta 7.6)
Can't attack. Dust: Summon a Greater Dog.

(Post Beta 8.3.1, Current)
Rarity: Blue (Rare)