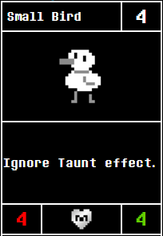 Current Version can be found here.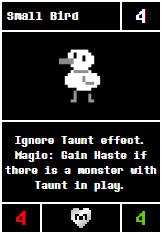 Small Bird was added in Beta 5.2. It's a simple card that costs 4G, has 4/4 in stats and ignores the Taunt of enemy monsters.
Beta 13.1 gave it its first change by adding a Magic effect to it. This Magic makes it gain Haste if there's a Taunt monster on the board. Beta 19.0 expanded that Magic by also giving it Haste if there's a monster with Armor on the board.
Stats
ATK: 4
HP: 4
Cost: 4
Abilities:
Ignores Taunt. (Post Beta 5.2)
Ignores Taunt. Magic: Gain Haste if there's a monster with Taunt. (Post Beta 13.1)
Ignores Taunt. Magic: Gain Haste if there's a monster with Taunt or Armor. (Post Beta 19.0, Current)
Rarity: White (Common)