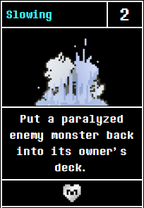 Current version can be found here. For Sharing, the card that was used before being replaced by this in Beta 3.4, click here.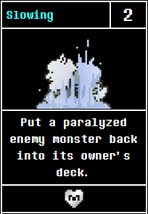 Originally, this card just returns a paralyzed enemy monster back to their deck for 2G. This was nerfed in Beta 3.6 to 3G, but returned to 2G in Beta 7.1.
Beta 7.4 buffed it by also making the returned monster cost 3 more (this doesn't stack). Its cost returned to 3G for this. Beta 19.0 buffed that further by increasing the monster's cost by 4.
Stats
Cost:
2 (Post Beta 3.4)
3 (Post Beta 3.6)
2 (Post Beta 7.1)
3 (Post Beta 7.4, Current)
Effect:
Return a paralyzed enemy monster to their deck.
Return a paralyzed enemy monster to their deck with +3 cost.
Return a paralyzed enemy monster to their deck with +4 cost.

(Post Beta 19.0, Current)
Rarity: White (Common)