Current Version can be found here. Previous Versions of RG 01 can be found here.
RG 01 and RG 02 do everything together, even changing stats.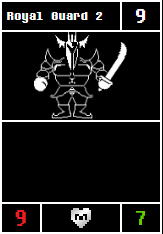 Originally, Royal Guard 2 had 8 ATK. This was buffed in Beta 5.3, where it was increased to 9. Beta 6.5 buffed it again to 10.
Beta 8.1 gave RG 02 an ability. Once RG 02 dies, every RG 01 you have on the field gets Taunt.
RG 01 had the same changes, but in HP rather than ATK.
Stats:
ATK:
8 (Pre Beta 5.3)
9 (Post Beta 5.3)
10 (Post Beta 6.5, Current)
HP: 7
Cost: 9
Abilities:
N/A (Pre Beta 8.1)
Dust: Give Taunt to ally RG 01('s). (Post Beta 8.1, Current)
Rarity: White (Common)
Ad blocker interference detected!
Wikia is a free-to-use site that makes money from advertising. We have a modified experience for viewers using ad blockers

Wikia is not accessible if you've made further modifications. Remove the custom ad blocker rule(s) and the page will load as expected.