Current version can be seen here.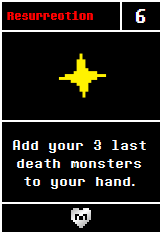 Resurrection originally would add the last 3 of your monsters that died to your hand for 5G. Alpha 3.2 increased that to 6G.
Beta 1.0 decreased the price to 4G, but would you also only gain the last 2 of your death monsters back.
Beta 4.1 reworked it entirely. For 1G, you would gain a random one of your death monsters to your hand. This was due to Resurrection being deemed too powerful when used with Legendary cards. Beta 13.1 increased that to 2 monsters, but increased the price to 3G. It won't give you 2 of the same monster.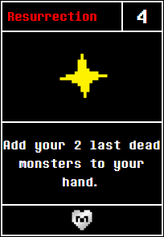 SOUL Type: Determination
Cost:
5 (Pre Alpha 3.2)
6 (Post Alpha 3.2)
1 (Post Beta 4.1)
3 (Post Beta 13.1, Current)
Effects:
Add your last 3 dead monsters to your hand.
Add your last 2 dead monsters to your hand.
Add a random dead ally monster to your hand.
Add 2 different random dead ally monsters to your hand.

(Post Beta 13.1, Current)
Rarity: White (Common)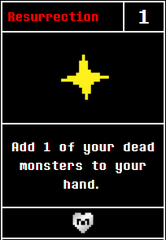 Ad blocker interference detected!
Wikia is a free-to-use site that makes money from advertising. We have a modified experience for viewers using ad blockers

Wikia is not accessible if you've made further modifications. Remove the custom ad blocker rule(s) and the page will load as expected.