Current version can be seen 
here
.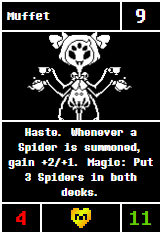 Originally, Muffet had an Epic Rarity, making her the 2nd card to get a change in Rarity (the 1st being the
Gaster Blaster
). She had the stats of 6/6 with the cost of 8G. Her ability would make the owner heal 5 HP every time Muffet killed a monster whilst attacking.
Alpha 2.7
changed this to 4/9, possibly in an attempt to make her last and therefore heal longer as a buff.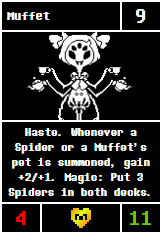 With the release of Spider in Beta 5.2, Beta 5.3 buffed Muffet to summon a Spider as well as restoring 5 HP whenever she attacks and kills a monster. Beta 7.4 buffed her a bit more by lowering her cost by 2G, but also decreasing her HP by 2.
And finally, Beta 8.1 changed her completely by turning her into a legendary. As a 4/11 for 9G monster (thus getting +4 HP and +3 cost), she now puts 3 Spiders in both your and the opponent's deck, and will gain +2/+1 whenever one in summoned. Beta 9.3 buffed her by also gaining Haste, much like Spider getting Haste in Beta 9.1. Beta 10.2 buffed her again by making her also gain +2/+1 for every Muffet's Pet summoned, but Beta 16.0 nerfed her a bit by lowering her HP to 10. Beta 19.0 nerfed her further by increasing her cost to 10G.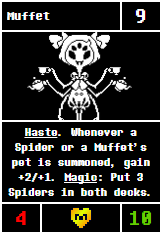 Stats
ATK:
4 (Post Alpha 2.7, Current)
HP:
9 (Post Alpha 2.7)
7 (Post Beta 7.4)
11 (Post Beta 8.1)
10 (Post Beta 16.0, Current)
Cost:
8 (Pre Beta 7.4)
6 (Post Beta 7.4)
9 (Post Beta 8.1)
10 (Post Beta 19.0, Current)
Abilities:
Restore 5 HP to its owner when this attacks and kills a monster. (Pre Beta 5.3)
Restore 5 HP to its owner and summon a Spider when this attacks and kills a monster. (Post Beta 5.3)
Whenever a Spider is summoned, gain +2/+1. Magic: Put 3 Spiders in both decks. (Post Beta 8.1)
Haste. Whenever a Spider is summoned, gain +2/+1. Magic: Put 3 Spiders in both decks. (Post Beta 9.3)
Haste. Whenever a Spider or a Muffet's Pet is summoned, gain +2/+1. Magic: Put 3 Spiders in both decks. (Post Beta 10.2, Current)
Rarities:
Purple (Epic) (Pre Beta 8.1)
Gold (Legendary) (Post Beta 8.1, Current)
Song (as Legendary): Spider Dance