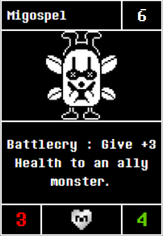 Current Version can be found
here
.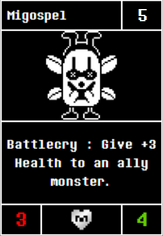 Migospel is essentially the upgraded version of
Migosp
, much like it is the Hard Mode version of Migosp in Undertale.
Prior to Alpha 2.7, this card was a 3/4 monster for 6G that would give +3 HP to an ally monster, which makes Migospel the Force of Nature for non-Kindness users. Alpha 2.7 itself dropped it's cost to 5G, and Alpha 3.2 dropped it even more to 4G. This stayed all the way up to Beta 7.5.
In Beta 7.5, Migospel's ability was changed so it now can give +3 HP to any monster you want, making it exactly like Force of Nature. However, this now means you can't place Migospel to be your only board monster if the enemy has monsters on the board, as you are forced to heal them. (Though you should've never done it before, as it's ability is very good to be a waste.)
Beta 12.1 buffed its ATK to 4.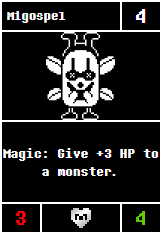 Stats
ATK:
3 (Pre Beta 12.1)
4 (Post Beta 12.1, Current)
HP: 4
Cost:
6 (Pre Alpha 2.7)
5 (Post Alpha 2.7)
4 (Post Alpha 3.2, Current)
Abilities:
Magic: Give +3 HP to an ally monster. (Pre Beta 7.5)
Magic: Give +3 HP to a monster. (Post Beta 7.5, Current)
Rarity: White (Common)
Ad blocker interference detected!
Wikia is a free-to-use site that makes money from advertising. We have a modified experience for viewers using ad blockers

Wikia is not accessible if you've made further modifications. Remove the custom ad blocker rule(s) and the page will load as expected.