Current Version can be found here.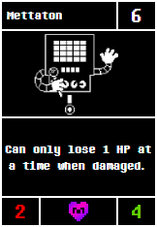 Mettaton went through quite a few changes, with most of them being buffs in order to make him more played.
He started with 2/5 for 6G. His HP was reduced to 4 in Alpha 2.1, but was reverted back to 5 in Alpha 3.2. Beta 4.2 gave him +1 HP (making it 6) and Beta 4.6 dropped his cost by 1G (making it 5G).
Beta 5.2 dropped its cost yet again to 4G. This gave us 2/6 for 4G, which was deemed too powerful, so the next update, Beta 5.3, dropped its HP back to the original 5.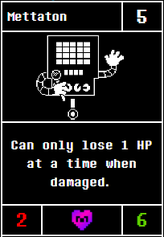 Stats:
ATK: 2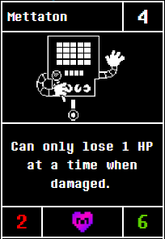 HP:
5 (Pre Alpha 2.1)
4 (Post Alpha 2.1)
5 (Post Alpha 3.2)
6 (Post Beta 4.2)
5 (Post Beta 5.3, Current)
Cost:
6 (Pre Beta 4.6)
5 (Post Beta 4.6)
4 (Post Beta 5.2, Current)
Ability: Can only lose 1 HP at a time when damaged.
Rarity: Purple (Epic)
Ad blocker interference detected!
Wikia is a free-to-use site that makes money from advertising. We have a modified experience for viewers using ad blockers

Wikia is not accessible if you've made further modifications. Remove the custom ad blocker rule(s) and the page will load as expected.