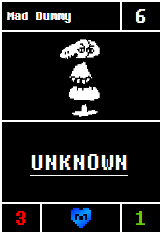 Current Version can be found
here
.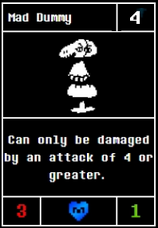 Mad Dummy's past has been lost in time, as it used to cost 6G, had 3/1 in stats, but had a different ability from it's current one.
Alpha 2.1 reduced that to 4G and gave it the current ability, blocking any damage from 3 or lower. And while Alpha 3.2 reduced it further to 3G, Beta 1.6 brought it back to 4G.
Beta 3.2 increased its price back to 6G, but also increased its ATK to 5. And with Jerry's HP buff from 5 to 6 in Beta 5.2, Beta 5.7 buffed Mad Dummy's ATK from 5 to 6.
Stats:
ATK:
3 (Pre Beta 3.2)
5 (Post Beta 3.2)
6 (Post Beta 5.7, Current)
HP: 1
Cost:
6 (Pre Alpha 2.1)
4 (Post Alpha 2.1)
3 (Post Alpha 3.2)
4 (Post Beta 1.6)
6 (Post Beta 3.2, Current)
Abilities:
Unknown. (Pre Alpha 2.1)
Can only be damaged with an ATK => 4. (Post Alpha 2.1, Current)
Rarity: Blue (Rare)
Ad blocker interference detected!
Wikia is a free-to-use site that makes money from advertising. We have a modified experience for viewers using ad blockers

Wikia is not accessible if you've made further modifications. Remove the custom ad blocker rule(s) and the page will load as expected.