Current Version can be found here.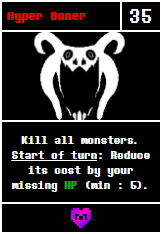 Originally, Hyper Goner would only be able to use when your HP was at 0. But when Beta 6.8 reworked the class, this wasn't possible anymore, so HG had to rework as well. At first, it was changed to be able to be used whenever you wanted, killing all monsters on the board (including your own). Its price went from 8G to 12G for this.
But Beta 7.1 changed that by making it 30G, but it would lower the cost by your missing HP. In other words, its cost would be equal to your current HP. Beta 7.5 nerfed that by not only increasing the cost to 34G (making it unable to cost less than 5G), while also making the cost reduction effect only trigger at the start of your turn instead of the instant you take damage.
However, with the release of Innkeeper in Beta 13.4, Hyper Goner was able to become 0G to play. As such, Beta 14.0 nerfed it again by making its minimum price 5G, even with HP boosts. Beta 17.0 nerfed it yet again by increasing its cost by 1, leaving it at 35G. Beta 19.0 nerfed it even further by making its minimum cost increase by 3, leaving it with a minimum cost of 8G.
Trivia
When Hyper Goner got its rework in Beta 7.1, the patch notes stated that it already had the cost reduction effect trigger at the start of your turn, but the card itself (and as such, the effect) didn't work that way.
Soul Type: Determination
Cost:
8 (Post Alpha 3.0)
12 (Post Beta 6.8)
30 (Post Beta 7.1)
34 (Post Beta 7.5)
35 (Post Beta 17.0, Current)
Effects:
Kill all monsters if your HP = 0. (Pre Beta 6.8)
Kill all monsters. (Post Beta 6.8)
Kill all monsters.

Lower its cost by your missing HP. (Post Beta 7.1)
Start of turn: Lower its cost by your missing HP. (Post Beta 7.5)
Start of turn: Lower its cost by your missing HP (min: 5). (Post Beta 14.0)
Start of turn: Lower its cost by your missing HP (min: 8). (Post Beta 19.0, Current)
Rarity: Purple (Epic)