Current version can be seen
here
.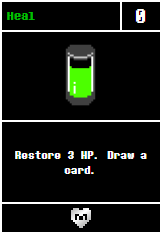 Originally, Heal costed 2G to restore 5 HP to any monster or player of your choice. Beta 2.0 reduced the cost to 1G. This returned to 2G in Beta 5.2, but also reworked the effect by making it only restore 3 HP but also letting you draw a card. This was done to parallel Heal with Poison and Protection, as those also gained the ability to draw a card when used.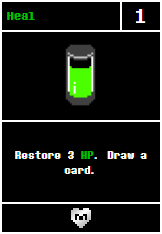 Beta 5.7 reduced the cost to 0G, only for it to be increased to 1G in Beta 7.4, returned to 0G in Beta 10.2 and increased back to 1G in Beta 19.0.
Beta 21.0 buffed it by now also removing any negative effects when used on a monster, just like Asriel does. Beta 24.0 nerfed this as if the target has a negative effect, it will only remove that and not restore 3 HP to it as well and letting you draw a card.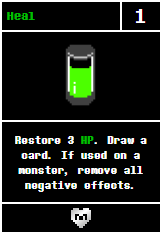 Soul Type: Kindness
Cost:
2 (Pre Beta 2.0)
1 (Post Beta 2.0)
2 (Post Beta 5.2)
0 (Post Beta 5.7)
1 (Post Beta 7.4)
0 (Post Beta 10.2)
1 (Post Beta 19.0, Current)
Effects:
Restore 5 HP. (Pre Beta 5.2)
Restore 3 HP and draw a card. (Post Beta 5.2)
Cure, restore 3 HP and draw a card. (Post Beta 21.0)
Restore 3 HP and draw a card. If the target has a negative effect, Cure it instead. (Post Beta 24.0, Current)
Rarity: White (Common)