Previous Versions can be found
here
. Previous Versions of Gift can be found
here
.
Gift Bear and it's summoned Gift are 2 of the 20 new cards from Beta 6.6.
This is a great defensive card, with substantial health and attack. It summons Gifts with Taunt, which can quickly become a hassle to deal with if left alone. If it becomes too difficult to handle, silencing it is always an option.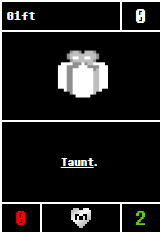 As of Beta 8.0.1, any summoned Gift will now:
Ad blocker interference detected!
Wikia is a free-to-use site that makes money from advertising. We have a modified experience for viewers using ad blockers

Wikia is not accessible if you've made further modifications. Remove the custom ad blocker rule(s) and the page will load as expected.