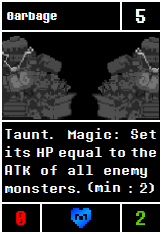 Current Version can be found
here
.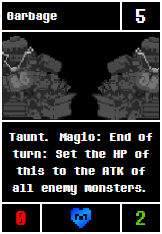 Garbage was added in Beta 6.5, as a 0/2 Taunt, just like Gift Bear's Gift and Lamp.
However, Garbage's ability made it have the amount of HP equal to the total amount of ATK of all enemy monsters combined. This made Garbage useful as if the opponent had a full board and couldn't bring a monster back, they had to use all monsters to kill it, giving a free turn to the owner of this card.
It was really hard to take down in combination with Longevity and/or Toriel, so Beta 8.1 nerfed it by making it's Magic effect happen at the end of the turn. (This is the first card to have such an ability. One that activated at the end of the turn, but only on the turn that it is placed.)
Beta 13.1 nerfed it further, as it now sets its HP equal to the total ATK of your monsters instead of that of the enemy.
Beta 19.0 buffed it a bit by making it add the ATK of your monsters to its HP instead of settings its HP to the total of it, allowing you to increase its HP before the Magic triggers. Its base HP dropped to 1 for this, though.
Stats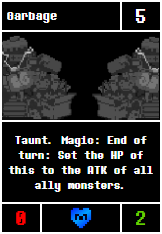 ATK: 0
HP: 2
Cost: 5
Abilities:
Taunt. Magic: Set its HP equal to the enemy monsters' total ATK. (Post Beta 6.5)
Taunt. Magic: End of turn: Set its HP equal to the enemy monsters' total ATK. (Post Beta 8.1)
Taunt. Magic: End of turn: Set its HP equal to your monsters' total ATK. (Post Beta 13.1)
Taunt. Magic: End of turn: Gain HP equal to your monsters' total ATK. (Post Beta 19.0, Current)
Rarity: Blue (Rare)