Current Version can be found here.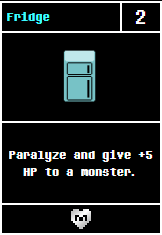 Fridge was added in Beta 6.6 alonside 19 other cards, 6 of which were other new spells, one for each class.
It stared with a cost of 2G to paralyze a monster of your choice while also giving it +5 HP, but this has been reducesd to 1G in Beta 7.1. Beta 9.3 reduced it again to 0G.
SOUL Type: Patience
Cost:
2 (Post Beta 6.6)
1 (Post Beta 7.1)
0 (Post Beta 9.3, Current)
Effect: Paralyze and give +5 HP to a monster.
Rarity: White (Common)
Ad blocker interference detected!
Wikia is a free-to-use site that makes money from advertising. We have a modified experience for viewers using ad blockers

Wikia is not accessible if you've made further modifications. Remove the custom ad blocker rule(s) and the page will load as expected.