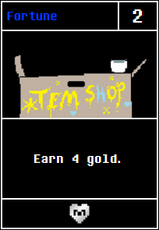 Current version can be seen 
here
.
Fortune is an Integrity Deck exclusive Spell Card. This card always gave a base profit of 2G, but the minimum amount of gold needed to activate it increased over time, nerfing Integrity in the process. Starting of at 2G, increased to 3G in Beta 3.1 and increased again to 4G in Beta 5.7.
Beta 12.0 increased the cost to 5G, but kept the amount given to 6G. This actually still gives a 2G profit, but only to Integrity users themselves. All other SOULs with this card obtained through Echo Flower or Librarian only get a 1G profit.
SOUL Type: Integrity
Cost:
2 (Pre Beta 3.1)
3 (Post Beta 3.1)
4 (Post Beta 5.7)
5 (Post Beta 12.0, Current)
Effect:
Earn 4 gold. (Pre Beta 3.1)
Earn 5 gold. (Post Beta 3.1)
Earn 6 gold. (Post Beta 5.7, Current)
Rarity: White (Common)
Ad blocker interference detected!
Wikia is a free-to-use site that makes money from advertising. We have a modified experience for viewers using ad blockers

Wikia is not accessible if you've made further modifications. Remove the custom ad blocker rule(s) and the page will load as expected.