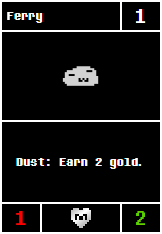 Current Version can be found
here
.
Ferry originally was a 1/2 monster for 1G that would give 2G upon death when it was released in
Beta 6.6
.
Beta 9.1
nerfed it to a 1/1, making it the same as Undertale's weakest monster:
Sans
.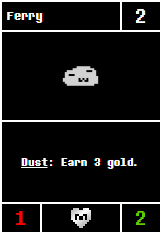 Much later, in
Beta 19.0
, its HP was brought back to 2, but got nerfed as it now costs 2G and gives 3G upon death, which would still be a 1G profit.
Beta 21.0
changed that by increasing its cost by 1 again, but now actually decreasing the gold you earn from its Dust, making you actually get a 1G loss. It gained +1 ATK with this.
Beta 24.0
gave it +1 HP.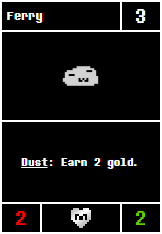 Stats
ATK:
1 (Post Beta 6.6)
2 (Post Beta 21.0, Current)
HP:
2 (Post Beta 6.6)
1 (Post Beta 9.1)
2 (Post Beta 19.0)
3 (Post Beta 24.0, Current)
Cost:
1 (Post Beta 6.6)
2 (Post Beta 19.0)
3 (Post Beta 21.0, Current)
Abilities:
Dust: Earn 2 gold. (Post Beta 6.6)
Dust: Earn 3 gold. (Post Beta 19.0)
Dust: Earn 2 gold. (Post Beta 21.0, Current)
Rarity: White (Common)