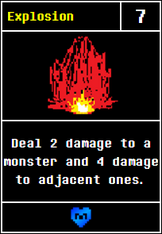 Current Version can be found here.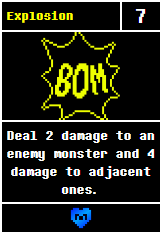 Explosion is one of the only cards that had its image changed, which was done in Beta 7.4. However, while the old card doesn't say that it's only usable on enemy monsters, its effect never changed, so the description was updated for clarification. Beta 9.3 buffed it by decreasing its cost from 7G to 6G.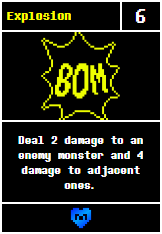 Beta 15.0 brought it back to 7G, but also reworked the effect a bit. Now, it deals 4 damage to any monster of your choice instead of 2 limited to enemy monsters. But the adjacent monsters, while still taking 4 damage, will only take damage if the targeted monster is killed with this. Beta 18.1 dropped its cost back to 6. Beta 22.0 nerfed its effect a bit by only dealing 3 damage to adjacent monsters.
Stats
SOUL Type: Justice
Cost:
7 (Pre Beta 9.3)
6 (Post Beta 9.3)
7 (Post Beta 15.0)
6 (Post Beta 18.1, Current)
Effects:
Deal 2 damage to an enemy monster and 4 damage to adjacent ones. (Pre Beta 15.0)
Deal 4 damage to a monster. If it kills, deal 4 damage to adjacent monsters. (Post Beta 15.0)
Rarity: Blue (Rare)