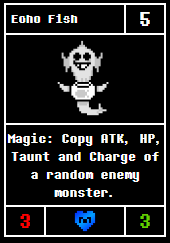 Current Version can be found here.
Echo Fish, added in Beta 7.4, originally copied the ATK, HP, Taunt and Charge of a random enemy monster. Beta 9.1 buffed that to letting you select the enemy monster you want it to copy the stats of.
Beta 19.0 reworked it a bit. It now can't copy Taunt anymore, but can copy Haste.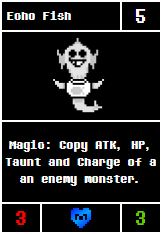 Stats
ATK: 3
HP: 3
Cost: 5
Abilities:
Magic: Copy a random enemy monster's ATK, HP, Charge and Taunt. (Post Beta 7.4)
Magic: Copy an enemy monster's ATK, HP, Charge and Taunt. (Post Beta 9.1)
Magic: Copy an enemy monster's ATK, HP, Charge and Haste. (Post Beta 19.0, Current)
Rarity: Blue (Rare)