This page is about some easter eggs in Undercards history.
Royal Guard Easter Egg
If you had RG 01 and RG 02 on the field:
RG 01 will say "..." in the effect box.
RG 02 will say "Armour so hot..." in the effect box.
This easter egg no longer works, since the RGs now have a Dust effect.
Get dunked on Easter egg
If Sans destroys Chara from the opponent hand, he will say "Get dunked on ! "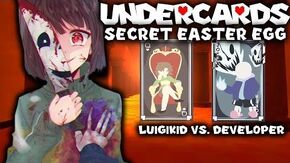 Since Sans no longer kills cards, this sadly no longer works.
Ad blocker interference detected!
Wikia is a free-to-use site that makes money from advertising. We have a modified experience for viewers using ad blockers

Wikia is not accessible if you've made further modifications. Remove the custom ad blocker rule(s) and the page will load as expected.