Current Version can be found here.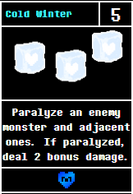 Cold Winter is a Patience specific Effect Card.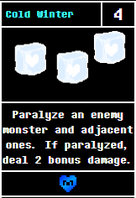 Originally, Cold Winter would paralyze all enemy monsters for 1 turn, at the cost of 5G. Alpha 3.2 dropped that to 4G, which stayed all the way until Beta 6.7 where it was returned to 5G. However, the next update, Beta 6.8, reworked the card a lot. It now just paralyzes the selected enemy and the ones next to it, simmilar to Justice's Explosion. But as a bonus, if any of the monsters is already paralyzed, it will not only paralyze them again, but also deal 2 bonus damage. Its cost was returned to 4G for this.
Beta 7.1 dropped the cost even further to 3G, but Beta 7.2 raised it back to its original 5G. And while Beta 7.5 brought it back yet again to 4G, Beta 17.0 raised to back to 5G.
Beta 20.0 nerfed the effect a bit, as it now no longer re-paralyzes enemy monsters that were already paralyzed.
Stats
Soul Type: Patience
Cost:
5 (Post Alpha 3.0)
4 (Post Alpha 3.2)
5 (Post Beta 6.8)
3 (Post Beta 7.1)
5 (Post Beta 7.2)
4 (Post Beta 7.5)
5 (Post Beta 17.0, Current)
Effect:
Paralyze all enemy monsters. (Pre Beta 6.8)
Paralyze an enemy monster and adjacent ones. If paralyzed, deal 2 bonus damage. (Post Beta 6.8)
Paralyze an enemy monster and adjacent ones. If paralyzed, deal 2 damage instead. (Post Beta 20.0, Current)
Rarity: Blue (Rare)