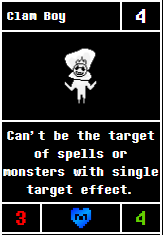 Current Version can be found here.
Since its debut in Beta 7.6, Clam Boy got its first change in Beta 12.0. This change increased all its stats by 1, turning it from a 3/4 for 4G monster to a 4/5 for 5G one. Beta 19.0 brought its HP and Cost back down by 1 to 4, but kept its ATK at 4.
Beta 20.2
brought its cost back up to 5, but reworked its effect by replacing it with Transparency. So now, it also can't be targeted by direct attacks, but will lose the effect if it attacks itself. This also makes Clam Boy the first monster to have just Transparency.
Beta 21.0
gave it +1 HP again.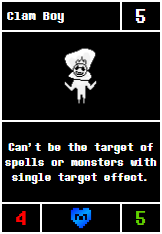 Stats
ATK:
3 (Post Beta 7.6)
4 (Post Beta 12.0, Current)
HP:
4 (Post Beta 7.6)
5 (Post Beta 12.0)
4 (Post Beta 19.0)
5 (Post Beta 21.0, Current)
Cost:
4 (Post Beta 7.6)
5 (Post Beta 12.0)
4 (Post Beta 19.0)
5 (Post Beta 20.2, Current)
Abilities:
Can't be targeted by spells and Magic effects. (Post Beta 7.6)
Transparency. (Post Beta 20.2, Current)
Rarity: Blue (Rare)