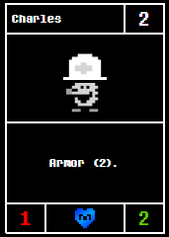 Current Version can be found here.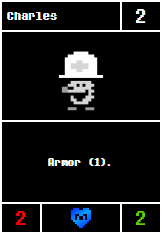 Charles was added in Beta 9.1, as the first of two monsters with the Armor ability (the other being Receptionist 2, added in the same update).
Beta 10.2 buffed Charles by increasing its ATK to 2, leaving it with 2/2 for 2G, but reducing its Armor to/by 1. Beta 14.0 swapped Charles' Rarity with that of Receptionist 2, making Charles a Common and Receptionist 2 a Rare.
Stats
ATK:
1 (Post Beta 9.1)
2 (Post Beta 10.2, Current)
HP: 2
Cost: 2
Abilities:
Armor (2). (Post Beta 9.1)
Armor (1). (Post Beta 10.2, Current)
Rarities:
Blue (Rare) (Post Beta 9.1)
White (Common) (Post Beta 14.0, Current)
Ad blocker interference detected!
Wikia is a free-to-use site that makes money from advertising. We have a modified experience for viewers using ad blockers

Wikia is not accessible if you've made further modifications. Remove the custom ad blocker rule(s) and the page will load as expected.