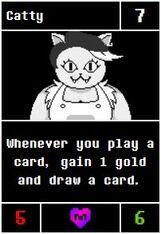 Current Version can be found
here
.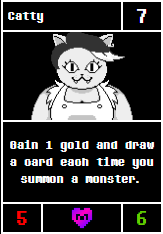 Catty was revealed on Undercard's Twitter page before her release in the upcoming update, Beta 7.6, alongside MTT Fountain and Sad Dragon.
Her ability was that whenever you played a card while she was on the board, you would gain 1G and draw a new card, making her ability simmilar to Bravery's passive effect.
Beta 8.1 nerfed that by only having her effect take place whenever you play a monster. This means Spells don't trigger the effect anymore, but monsters spawn from cards like Igloo or Lamp will. Beta 10.2 nerfed her effect again by only making you draw a card, so no longer gain gold.
Beta 14.0 nerfed her again, this time by lowering her ATK from 5 to 4. (This makes her match up with Bratty again, whose HP was dropped from 5 to 4 in Beta 13.1.)
Stats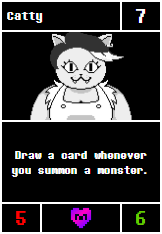 ATK:
5 (Post Beta 7.6)
4 (Post Beta 14.0, Current)
HP: 6
Cost: 7
Abilities:
Gain 1 gold and draw a card whenever you play a card.
Gain 1 gold and draw a card whenever you summon a monster.
Draw a card whenever you summon a monster.

(Post Beta 10.2, Current)
Rarity: Purple (Epic)
Ad blocker interference detected!
Wikia is a free-to-use site that makes money from advertising. We have a modified experience for viewers using ad blockers

Wikia is not accessible if you've made further modifications. Remove the custom ad blocker rule(s) and the page will load as expected.