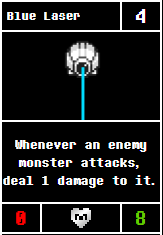 Current Version can be found here.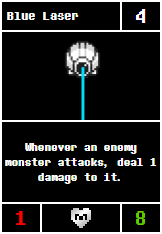 Blue Laser was added in Beta 6.6. Its first change happened in Beta 12.1, where its ATK was buffed from 0 to 1. As a result, it will not die instantly from Madjick. Orange Laser got the same change.
Beta 20.0 changed Blue Laser up without changing up Orange Laser, though, by dropping its HP by 1 but leaving Orange Laser unchanged.
Stats
ATK:
0 (Post Beta 6.6)
1 (Post Beta 12.1, Current)
HP:
8 (Post Beta 6.6)
7 (Post Beta 20.0, Current)
Cost: 4
Ability: Deal 1 damage to an attacking enemy monster.
Rarity: White (Common)