Current Versions can be seen here.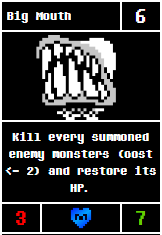 Big Mouth is a card added in Beta 6.6, along with 19 others. It hasn't gone through any major changes yet. The only change it got was during Beta 7.1, where its cost dropped to 5G.
Stats:
ATK: 3
HP: 7
Cost:
6 (Post Beta 6.6)
5 (Post Beta 7.1, Current)
Ability: Kill every summoned enemy monster (cost <= 2) and restore its HP.
Rarity: Blue (Rare)
Ad blocker interference detected!
Wikia is a free-to-use site that makes money from advertising. We have a modified experience for viewers using ad blockers

Wikia is not accessible if you've made further modifications. Remove the custom ad blocker rule(s) and the page will load as expected.