Current version can be seen here.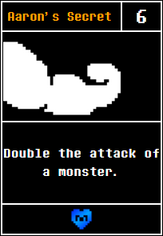 Originally, this card costed 6G to double the ATK of a monster (including enemies). Beta 2.0 decreased this to 5G, but Beta 3.2 returned it to 6G.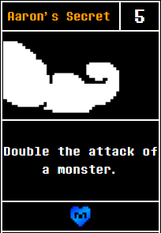 Beta 5.7 nerfed it's effect by just giving a 75% ATK bonus instead of the full 100%. it's cost was halved to 3G, though. However, the next update, Beta 5.8, increased that up to 5G. Beta 6.7 decreased it to 4G.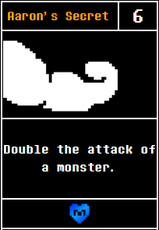 Beta 7.5 gave this card a complete different effect. Now, it adds +2 ATK to all of your monsters with 3 ATK or less, bringing them up to 2-5 ATK. Beta 7.6 increased it's price to 5G.
SOUL Type: Bravery
Cost:
6 (Post Alpha 3.0, Original)
5 (Post Beta 2.0)
6 (Post Beta 3.2)
3 (Beta 5.7)
5 (Post Beta 5.8)
4 (Post Beta 6.7)
5 (Post Beta 7.6, Current)
Effect:
Double the attack of a monster. (Pre Beta 5.7)
Give 75% bonus ATK to a monster. (Post Beta 5.7)
Give +2 ATK to your monsters with 3 or less ATK. (Post Beta 7.5, Current)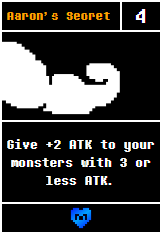 Rarity: Blue (Rare)
Ad blocker interference detected!
Wikia is a free-to-use site that makes money from advertising. We have a modified experience for viewers using ad blockers

Wikia is not accessible if you've made further modifications. Remove the custom ad blocker rule(s) and the page will load as expected.