Current version can be seen here.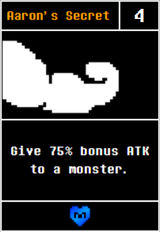 Originally, this card costed 6G to double the ATK of a monster (including enemies).
Beta 2.0
decreased this to 5G, but
Beta 3.2
returned it to 6G.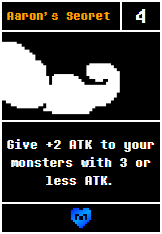 Beta 5.7
changed its effect by just giving a 75% ATK bonus instead of the full 100%. Its cost was halved to 3G, though. However, the next update,
Beta 5.8
, increased that up to 5G.
Beta 6.7
decreased it to 4G.
Beta 7.5 gave this card a complete different effect. Now, it adds +2 ATK to all of your monsters with 3 ATK or less, bringing them up to 2-5 ATK. Beta 7.6 increased its price to 5G.
Stats
SOUL Type: Bravery
Cost:
6 (Post Alpha 3.0)
5 (Post Beta 2.0)
6 (Post Beta 3.2)
3 (Beta 5.7)
5 (Post Beta 5.8)
4 (Post Beta 6.7)
5 (Post Beta 7.6, Current)
Effect:
Double a monster's ATK. (Pre Beta 5.7)
Give a monster +75% ATK. (Post Beta 5.7)
Give all ally monsters (ATK <= 3) +2 ATK. (Post Beta 7.5, Current)
Rarity: Blue (Rare)